News & Events
Offering the best! SRRSH had a selection of medical personnel for the Asian Games
2022/02/28
By Si Xiaocai (Shelia)
On February 28th, Sir Run Run Shaw Hospital (SRRSH), Zhejiang University School of Medicine, carried out a comprehensive selection of medical support personnel for the Asian Games with the theme of " Together @ future". Under the strict appraisal of six experts in the hospital, the medical staff conducted medical practice scenarios for the "targeted examinations" related to the medical support of the Asian Games and Asian Paralympic Games.
The evaluation experts on the site have specially designed more than 20 kinds of "examination questions", including multiple injuries, pneumothorax, fractures, massive bleeding, chest pain, abdominal pain, etc. It mainly focuses on the comprehensive abilities assessment, like English communication, emergency treatment, appearance, standardization of diagnosis and treatment, and humanistic care of on-site medical staff in medical emergency treatment.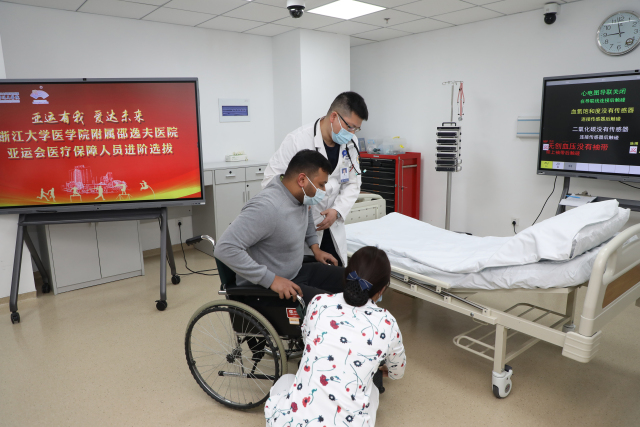 La He (Lallah Poojesh Nikhil), who acted as a standardized patient (SP) of the Asian Games, is a Mauritian postgraduate student from the Cardiology Department at SRRSH. He said, "I felt that SRRSH doctors and nurses took good care of my emotions. When I was sent to the hospital, they quickly informed me the medical staff's name, offering timely help if I feel any uncomfortable. This makes me feel at ease. " Moreover, La He works as one of the multilingual medical volunteers of SRRSH for the Asian Games and Asian Paralympic Games.
YU Hong, Vice President of SRRSH, said that this selection of medical support personnel for the Asian Games can be described as "choosing the best from the best". It is hoped that through this on-site simulation evaluation, SRRSH will strive to build a group of medical personnel with excellent comprehensive abilities. They will be the first elites of the medical supporters in the Asian Games.
For the finalists of this selection, SRRSH will further organize systematic training and following assessment, fully qualifying medical staff with proficient skills of first aid, transfer and emergency treatment on different venues.