News & Events
Recall SRRSH Shining Moments in 2017 to Celebrate the Spring Festival
2018/02/14
Edited by Si Xiaocai / Reviewed by Zhan Yilei
As the Chinese New Year ­– Spring Festival – is coming, it is a great opportunity for Chinese people to look back into the past year and make plans for a new year. In Chinese, we also call this holiday as "Nian", and now you can find many places at SRRSH decorated with lots of "Nian" signs, such as red lanterns, Spring Festival scrolls and Chinese knots.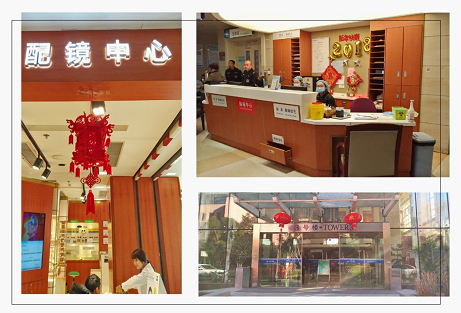 The year 2017 has witnessed the rapid growth and fruitful achievements of Sir Run Run Shaw Hospital (SRRSH). Looking to the past, we recall all the shining moments that bear our precious memories and hard work. Let us see what we have achieved in 2017 together.
(1) Won "Best Employer among Healthcare Organizations" Award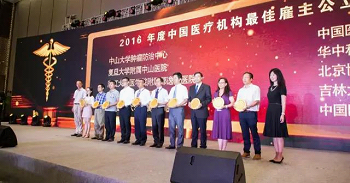 The award ceremony was held in July by Dingxiangyuan and McKinsey Company for the Top 10 winners of "Best Employer among Healthcare Organizations" Award . Sir Run Run Shaw Hospital has been honored the award for three consecutive years and rank No.3 nationwide in 2016.
(2) Passed the HIMSS EMRAM Stage 7 Accreditation
On August 28, Sir Run Run Shaw Hospital successfully passed the HIMSS EMRAM Stage 7 Accreditation, which means the hospital's medical informatization reaches the highest international level. SRRSH has never ceased to pursue the top international standards in our medical journey.
(3) Joined the Mayo Clinic Care Network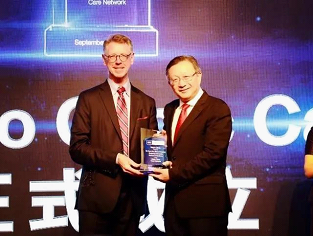 In September 2017, Sir Run Run Shaw Hospital announced it officially joined the Mayo Clinic Care Network, becoming the first in China to collaborate with Mayo Clinic.
(4) Celebrated the 120th Anniversary of Zhejiang University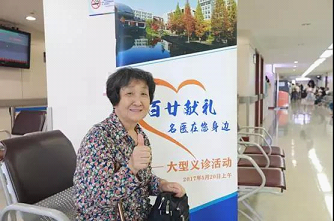 For celebrating the 120th anniversary of Zhejiang University (ZU), SRRSH organized a large-scale activity of free clinic. A number of reputable doctors offered voluntary consultation and diagnosis for the patients. This activity is regarded as a gift presented to ZU and express the hospital gratitude for patients' trust in ZU and SRRSH.
(5) Organized the 4th Annual Chinese Public Hospital Development Forum - Healthy China Summit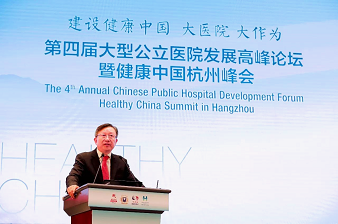 In June 2017, The 4th Annual Chinese Public Hospital Development Forum - Healthy China Summit, was hosted by Health News and organized by SRRSH in Hangzhou. The theme of the forum was "Build a Healthy China and Let Major Hospitals Make Great Contributions". The conference not only offered broad space for the development of internet medical industry, but also brought opportunities and challenges for the development of large public hospitals.
(6) Successfully Accomplished SRRSH's First Air Rescue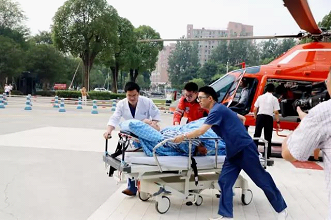 We witnessed the first air rescue by helicopter on Xiasha Campus. The SRRSH medical staff only spent 56 seconds from getting out of the helicopter to emergency room.
(7) Secretary Che Jun Complimented the Xinjiang-Aid Work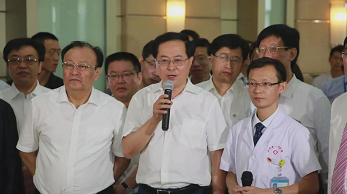 Provincial Party Secretary Che Jun paid an inspection visit to and express his concern for Xinjiang-aid medical staff of SRRSH. "Thanks for your greatest love for Xinjiang people. It fosters the relationship between Xinjiang and Zhejiang provinces", said Secretary Che.
(8) Continued to Establish More Assisting Relations with Chinese Hospitals
High-level medical union sub-project was launched in Quzhou.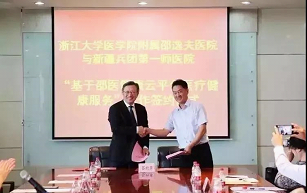 SRRSH and Xinjiang remote medical collaborative platform came online.
Remote medical remote medical collaborative platform of SRRSH and The People's Hospital of Yizhou was launched.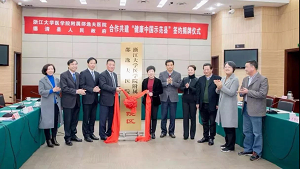 SRRSH Deqing Campus was officially founded.
(9) Exploring the Progressive Development of Major Hospitals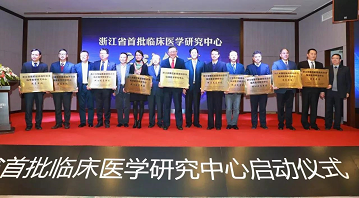 SRRSH led to establish the Zhejiang provincial clinical medical research center for abdominal viscera minimally invasive diagnosis as the first batch.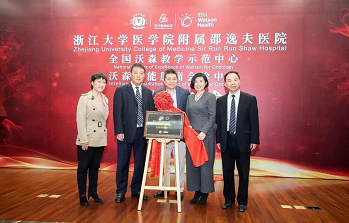 The Intelligent Consultation Center of Watson for Oncology was established at SRRSH to promote the AI development in Chinese medical area.
(10) Witnessed Outstanding Models and Renowned Awards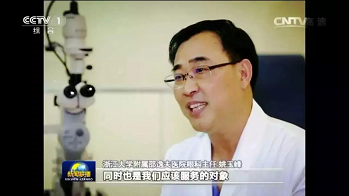 Dr. Yao Yufeng, director of Ophthalmology Department, won the Bethune Award, the top honor award of national health industry, and also was selected as Chinese Good Doctor.
Present Cai Xiujun was awarded the title of "Principal of Top 10 Medical Residency Training Bases" and won the Outstanding Contribution Award of the Best China Hospital CEO Leadership.
SRRSH ranked Top 10 in terms of hospital's influence on internet transmission, getting the innovation award of hospital brand spreading. There were also many other awards obtained by SRRSH doctors and nurses. It is through the concerted efforts made by all the SRRSH staff as well as supports from all parties concerned that we are able to accomplish these great achievements.
Please let us all memorize the shining moments in 2017 and go forward hand in hand for a better SRRSH in 2018.
At last, all SRRSH staff wish you a happy Spring Festival!