Highlights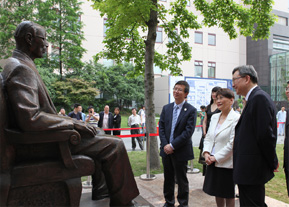 Sir Run Run Shaw Hospital
Zhejiang University School of Medicine
Introduction
Sir Run Run Shaw Hospital (SRRSH), affiliated with Zhejiang University School of Medicine, was established in 1994 through the generous donation of Sir Run Run Shaw (a well-known Hong Kong businessman and philanthropist), along with matching funds from Zhejiang Government. At the beginning of its establishment, it was a modern public hospital co-managed by Loma Linda University Health in the United States. After 28 years of development, it has become a comprehensive tertiary first-class hospital integrating medical treatment, teaching and scientific research. SRRSH pioneers the "Shaw Hospital Model" that combines Chinese and western healthcare management models, leading the "Internet + Healthcare" model, and has become a benchmark and national model for the hospital management in China.
The hospital has three campuses: Qingchun, Qiantang and Shuangling, with 2400 licensed beds. SRRSH has been ranked 10th best KPI performance award among the national tertiary public hospitals in 2020. For three consecutive years, SRRSH has been rated as A++ in the performance appraisal, among the top 1% of the national tertiary public hospitals. It is the only medical institution in the province that has won the Zhejiang Provincial People's Government Quality Innovation Award. It is the hospital with the fastest progress in the comprehensive ranking of hospitals in the latest Fudan rankings. SRRSH is the first large-scale comprehensive hospital in China to pass JCI accreditation, the first in Asia to pass the Magnet certification and the first member of Mayo Clinic Care Network in China.
Hospital takes the lead in the construction of Regional Medical Center for National Institute of Respiratory Disease, and makes joint efforts to build the regional medical centers for National Institute of Comprehensive Diseases. It is a pioneer in the establishment of National Engineering Research Center for Minimally Invasive Instrument Innovation and Application. It has also established a national clinical teaching and training demonstration center. It is the preferred medical institution in China for the rotation training of overseas medical students and residents.
The hospital leads the world with minimally invasive medicine, a number of technologies and surgical methods are the world's first. It has established multiple international joint diagnosis and treatment centers and research platforms, the Belt and Road Minimally Invasive Medicine Academy, and founded China's first international journal on minimally invasive surgery, leading the development of laparoscopic surgery in China and the world.
For the past two decades, SRRSH has had a long-term cooperation with Loma Linda University Health (USA), and has broadened international cooperation and communication with other world famous medical care institutes, including Mayo Clinic, University of Columbia, New York-Presbyterian Hospital, the University of Zurich, Cabrini Health Royal Australian College of Surgeons, Shizuoka Hospital, Yonsei University Severance Hospital, Chungbuk National University and others.Each year, over 200 doctors are sent to international health institutes for academic exchange. Also, we provide a rotation program for international medical students and residents. In 2009, SRRSH opened the first International Healthcare Center (IHC) in Zhejiang province. Since then, we have treated international patients from 168 countries and regions, and signed 22 world-renowned medical insurance companies. As the designated hospital of the Zhejiang Foreign Affairs Office, SRRSH has provided healthcare services for a number of foreign leaders and celebrities during their visit to Hangzhou.