Highlights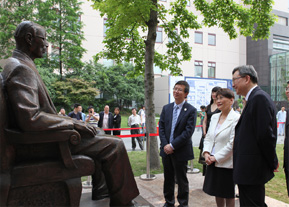 Sir Run Run Shaw Hospital
Zhejiang University,School of Medicine
Introduction
Sir Run Run Shaw Hospital (SRRSH),affilicated with Zhejiang University, School of Medicine, was established in 1994 through the generous donation of Sir Run Run Shaw, a well-known Hong Kong businessman and philanthropist, as well as matching funds from the Zhejiang government. Over the last 20 years of comprehensive scientific development, SRRSH has been developed into a tertiary, research-oriented general hospital with two campuses (Qingchun Campus and Xiasha Campus), 310,866 square meters, 2,400 beds, 32 clinical specialties, 77 nursing units and 9 ancillary departments.
SRRSH pioneered the "Shaw Hospital Model", which combines the best of Chinese and western healthcare management modles. SRRSH is the first pilot in China to develop an electronic patient platfrom using the telephone, which enable patients to register, pay, cheak medical records and link with government insurance systems, as well as remotely consult with physician through the Cloud Hospital.
SRRSH is the first public hospital in China accredited by the Joint Commission International for four times in succession. And in 2014, 2015 and 2016, SRRSH was linked in the "100 Best Medical Organizations to work for in China". In September 2017, SRRSH became the first hospital in China to join Mayo Clinic Care Network.
A number of SRRSH departments have achieved the world-class standards, clinical strength include the departments of minimally invasive surgery with laparoscopic technique application, reproductive medicine, cardiovascular interventional treatment, and ophthalmology etc. the obviously professional advantages have been observed in general surgery, cardiology, gynecology & obstetrics, urology, radiology, head & neck surgery, orthopedic surgery, gastroenterology, and neurology etc. SRRSH has significantly improved in multi-disciplinary diagnosis and treatment with the construction of treatment centers, including tumor center, ophthalmology center, heart center and pathology center.
For the past two decades, SRRSH has had a long-term cooperation with Loma Linda University Health (USA), and has broadened international cooperation and communication with other world famous medical care institutes, including Mayo Clinic, University of Columbia, New York-Presbyterian Hospital, the University of Zurich, Cabrini Health Royal Australian College of Surgeons, Shizuoka Hospital, Yonsei University Severance Hospital, Chungbuk National University and others.Each year, over 200 doctors are sent to international health institutes for academic exchange. Also, we provide a rotation program for international medical students and residents. In 2009, SRRSH opened the first International Healthcare Center (IHC) in Zhejiang province. Since then, we have treated international patients from 168 countries and regions, and signed 22 world-renowned medical insurance companies. As the designated hospital of the Zhejiang Foreign Affairs Office, SRRSH has provided healthcare services for a number of foreign leaders and celebrites during their visit to Hangzhou.