News & Events
The First Robotic Surgery Committee of Zhejiang Medical Doctors Association: An Exchange Platform with a Focus on Top Surgical Robots Based on Standardized Operational Norms
2023/07/03
Edited by XI Yue

Reviewed by SI Xiaocai
On June 30, thanks to the organization of Sir Run Run Shaw Hospital (SRRSH), affiliated with Zhejiang University School of Medicine, the Robotic Surgery Committee of Zhejiang Medical Doctors Association was established under the guidance of Zhejiang Medical Doctors Association. Dr. CAI Xiujun, President of SRRSH, serves as the honorary chairman of the committee and Dr. YU Hong, Vice President of SRRSH, was elected the first director of it. On July 1, the first academic meeting of the Robotic Surgery Committee was held, followed by a week-long surgical presentation carried out by robots from several specialties on July 2.
The committee consists of 64 expert members from a wide range of specialties including hepatobiliary and pancreatic surgery, gastrointestinal and anorectal surgery, thoracic surgery, gynecology, pediatric surgery, orthopedics, and neurosurgery.
The rapidly expanding application of robotic technology in surgery has brought opportunities and challenges never seen before, said the honorary chairman, Dr. CAI Xiujun. The academic meeting brings together domestically renowned experts and scholars in robotic surgery to discuss the latest application and future development of robotic technology in surgery, and to share cutting-edge results and experience. The ultimate goal is to provide better medical services for patients.
Dr. YU Hong, the first director of the committee, said that the conference focused on robot-assisted surgery, intelligent navigation systems, human-machine collaborative surgery, and other key themes in the form of academic reports, seminars, and exhibitions to promote the development of robotic surgery.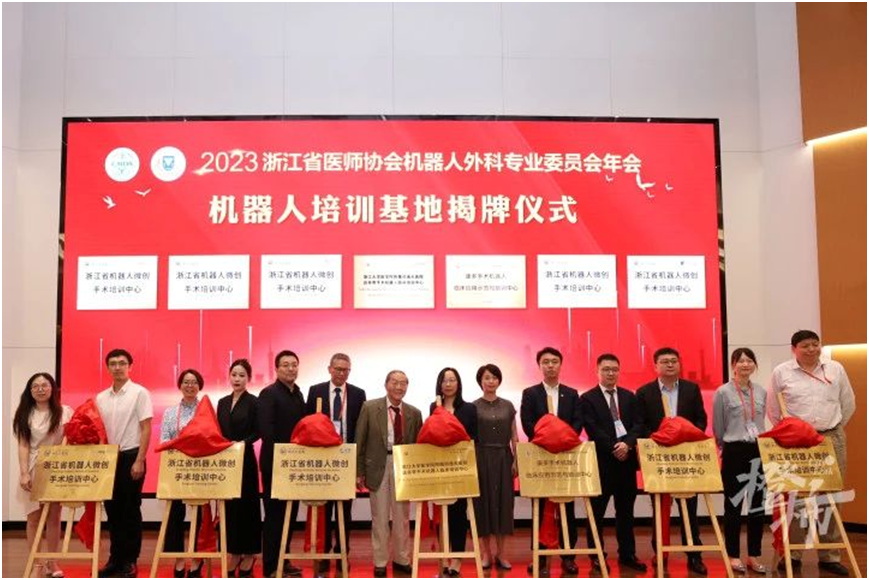 Build an Exchange Platform and Standardize Surgical Norms
Develop Expert Consensus, Clinical Guidelines, and Quality Control Standards
The meeting also pooled current mainstream AI-assisted robotic products, enabling participants to test the goods and to experience courses of animal operation with different surgical methods. Apart from the academic meeting, the opening ceremony of the SRRSH robotic training base was also held at the venue.
Why set up the Robotic Surgery Committee? According to Dr. YU Hong, the application of robotic surgical techniques increases surgical quality and offers a sound platform for surgeon training. But new things like surgical robots, need to be constantly improved over the development process and standards for surgery and surgeon training should be developed. Hence, expert consensus, clinical guidelines, and quality control standards are required to put robotic surgery on a standardized development path. In so doing, more patients can be benefited and an exchange platform based on mutual learning can be established for a wide range of surgeons.
Dr. YU Hong believed that the committee will:
01 Strengthen academic exchanges and communication in robotic surgery, conduct related clinical research, create surgical methods and advance the promotion, and application of robotic surgical techniques;
02 Facilitate sound, standardized development of emerging robotic surgery by developing related expert consensus and clinical guidance to regulate the clinical practice and benefit more targeted patients;
03 Carry out efficient training for surgeons specializing in robotic surgery, implement rigorous access, training, and evaluation mechanism, and formulate standards and specifications for relevant surgeon training under the guidance of the Zhejiang Medical Doctor Association;
04 Establish the standard of quality control for robotic surgery to standardize and evaluate robot-assisted surgeries performed by different hospitals based on unified metrics, as a way to promote orderly development of the specialty;
05 Attach importance to the integration of medicine, engineering, and informatics, and strive for innovation of surgical concepts and techniques to provide high-quality clinical services.
According to Professor YU Hong, robotic surgery in Zhejiang province is on a fast track of development. Surgeons here can carry out a wide range of difficult surgeries by using robots and the number of such operations ranks top across China, covering hepatopancreatobiliary surgery, gastrointestinal and anorectal surgery, urology, gynecology, pediatric surgery, orthopedics, and neurosurgery. However, we still need to work on research and development of robots and multi-center study of robotic surgeries to create more new techniques and surgical methods, he admitted.
Top Single-robot Surgical Volume in China
A Strong Robotic Surgical Team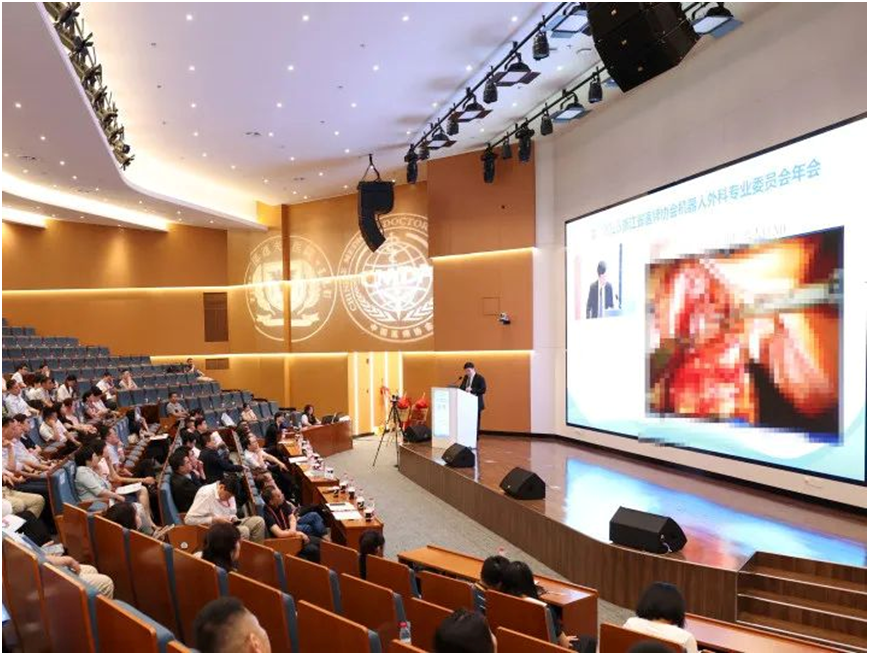 Since the founding of SRRSH, it has embraced innovation-driven development characterized by precise minimally-invasive surgery. It continues to innovate devices, facilities, and surgical methods, striving for wider application of minimally-invasive techniques in clinical practice, so as to meet the needs of the general public for quality medical services across the board and help achieve the quality leapfrog development of the hospital.
SRRSH takes the lead in introducing cutting-edge surgical robots. In 2022, 2323 cases of robotic surgeries were performed with the single-robot surgical volume ranked first and the total number of operations ranked third in China.
At present, there are two trends presented in SRRSH's robotic surgery. One is the mutual reinforcement between classical operations and original operations. SRRSH can not only treat common diseases through robotic surgery, but also take full advantage of robots and minimally invasive surgery when it comes to major, difficult diseases. The other is the increasing number of fully-developed surgical teams (consisting of surgeons, assistants, and nurses), and related standardized teaching mechanisms.
With a focus on hepatopancreatobiliary surgery, gastrointestinal and anorectal surgery, urology, gynecology, and thoracic surgery, difficult robotic surgeries performed by SRRSH to treat critical diseases include robotic pancreaticoduodenectomy, robotic single-port hepatectomy, robotic total gastrectomy, ano-saving surgery in ultra-lower rectal carcinoma, stent-based intestinal diversion created by President CAI Xiujun, radical resection of colorectal cancer via natural orifice specimen extraction, robotic single-port prostate and kidney surgery, radical nephrectomy combined with vena cava thrombectomy, robotic single-port uterine adnexa resection surgery, robotic resection of esophageal cancer, etc.
General Surgery·Hepatopancreatobiliary Surgery
The Department of General Surgery is committed to innovation-driven, precise minimally invasive-oriented development with a goal of becoming a world-class minimally invasive surgical team in hepatopancreatobiliary surgery. Professor CAI Xiujun, the principal investigator of the department as well as a globally renowned pioneer in the field of minimally invasive surgery, is the first scholar in China to come up with the concepts of whole-process minimally invasive surgery and precise diagnosis and treatment with his team. He also created multiple novel, original techniques and surgical methods, including the laparoscopic curettage and suction dissection method of hepatectomy, and the laparoscopic regional hepatic blood flow blocking technique. He performed the first completely laparoscopic right hemihepatectomy, the first completely laparoscopic pancreaticoduodenectomy, and the first laparoscopic isolated caudate hepatectomy in China. Meanwhile, he also performed the first completely laparoscopic two-stage hemihepatectomy using round-the-liver ligation (Cai's ALPPS technique), the first robotic single-port left hemihepatectomy, and the first laparoscopic combined with thoracoscopic liver cancer vena cava incision for tumor thrombus removal in the world. Moreover, he is one of the first batch of surgeons in China to perform robot-assisted pancreaticoduodenectomy and hepatectomy, and fluorescence navigation laparoscopic anatomic segmental resection of the liver. Along with the rest of the department, he led the formulation of the first Chinese operational guidelines for laparoscopic liver resection. He was among the first to put forward the use of ICG fluorescence angiography in laparoscopic liver tumor resection, and the first to set up the hepatic enhanced recovery after surgery (ERAS) team and the severe acute pancreatitis (SAP) team to perform Laparoscopic-assisted debridement via retroperitoneal approaches.
Urology
In 2015, the Urology Department of SRRSH started to perform robot-assisted laparoscopic surgery. Now the annual cases of robotic surgery performed by the department exceed 1000, ranking among the top 8 nationwide for many years. As many as 14 surgeons have the qualifications to carry out such surgery and nearly all the attending physicians are skilled in robotic surgery. The most common surgical methods of urological robotic surgery include robotic radical prostatectomy, robotic partial nephrectomy, robotic radical cystectomy, robotic radical nephroureterectomy, robotic adrenal tumor (retroperitoneal tumor) resection, and robotic pyeloplasty. These procedures are for patients with prostate cancer, renal cancer, bladder cancer, renal pelvis cancer (ureteral cancer), adrenal tumor (retroperitoneal tumor), and ureterostenosis.
The defining feature of the Urology department is single-port surgery. Single-port laparoscopic technology enables a surgeon to perform laparoscopic surgery through a single incision in the skin.
Colon and Rectal Surgery
Early in 2018, the Department of Colon and Rectal Surgery took the lead in performing Da Vinci robotic radical resection of colorectal cancer in Zhejiang province. With a flexible mechanical arm, a Da Vinci robot can rotate 360 degrees and easily perform low rectal cancer surgery such as ISR and anus-preserving surgery for low and ultra-low (3-5 cm from the anus) rectal cancer. Thanks to the high-definition, three-dimensional vision, and the flexibility of the robot, surgical operations become increasingly precise, which can better protect the pelvic nerves, blood vessels, and other tissues of patients. It also shortens the length of surgery and achieves the ultimate "minimally invasive" goal. Combined with measures of enhanced recovery after surgery, patients can recover sooner with a better life.
Under the leadership of SONG Zhangfa and HUANG Xuefeng, two chief physicians, the total and annual number of robotic colorectal cancer surgery performed by the Colon and Rectal Surgery Department of SRRSH are both among the highest in Zhejiang province, with 455 cases in 2022. Leading their team members, the two experts have given many surgical demonstrations across the country, and have strived for the improvement of surgical capacity, accuracy, and precision and the promotion of domestically advanced surgical techniques and ideas of colorectal cancer. The anus-preserving minimally-invasive technique has largely improved patients' quality of life.
Gynecology
The Gynecology Department of SRRSH has performed a wide range of robotic surgeries (e.g. radical surgery for early-stage cervical cancer, endometrial cancer staging surgery, and staging surgery for early-stage ovarian cancer) on patients with benign and malignant diseases (e.g. endometriosis, and pelvic organ prolapse). Operations of gynecologic malignant tumors may involve multiple areas, including the uterus, ureter, bladder, rectum, and blood vessels and lymph nodes in the tissues around the uterus. If the surgical field is not fully exposed, surrounding tissues will be susceptible to injury.
The Gynecology department has not only performed a province-leading amount of robotic surgeries, but also took the lead in conducting surgical research on fertility preservation of patients with gynecological tumors. The recently performed single-port robotic surgeries provide more precise treatment for patients with less trauma and faster recovery. As times change, patients have higher requirements for aesthetics and quality of life. The birth of the Da Vinci surgical system provides better choices for patients with gynecological tumors.
Thoracic Surgery
Under the leadership of the director Prof. HE Zhengfu, the Department of Thoracic Surgery is characterized by minimally invasive technology. The department boasts advanced high-definition and 3D thoracoscopy equipment and Da Vinci robotic surgery system. It routinely performs thoracoscope-assisted and robot-assisted anatomical lobectomy and segmentectomy, bronchoplasty and pulmonary arterioplasty, mediastinal tumor resection, total endoscopic radical esophagectomy, resection of tumors of cervicothoracic juncture, etc. Moreover, the department also established the Lung Transplant Center of SRRSH with the support of the Pulmonary and Critical Care Medicine department, the Respiratory Care department, the Anesthesiology department, the Intensive Care Unit, and the Physical Medicine and Rehabilitation department. The department performs more than 6,000 thoracic surgeries every year, of which more than 95% are minimally invasive and robot-assisted.
Robot-assisted endoscopic surgery covers a variety of difficult thoracic operations, ensuring surgical safety, the efficiency of radical treatment, and the normal function of organs and tissues to a greater extent.