News & Events
Chair of the OCA Medical Committee, visited SRRSH for the Asian Games medical support work
2023/10/09
Edited by XI Yue (Andie)
Reviewed by SI Xiaocai (Shelia)
On September 27, Dr. Sultan AL Busaidi, Chair of the OCA Medical Committee and Anti-Doping Commission, Dr. Kamal Alhadidi, member of the OCA Medical Committee and Anti-Doping Commission, and Jiang Huiquan, Deputy Commander of the Medical and Health Command Center of the MOC visited Sir Run Run Shaw Hospital (SRRSH), affiliated with Zhejiang University School of Medicine, to look at the hospital's medical zone for the 19th Asian Games.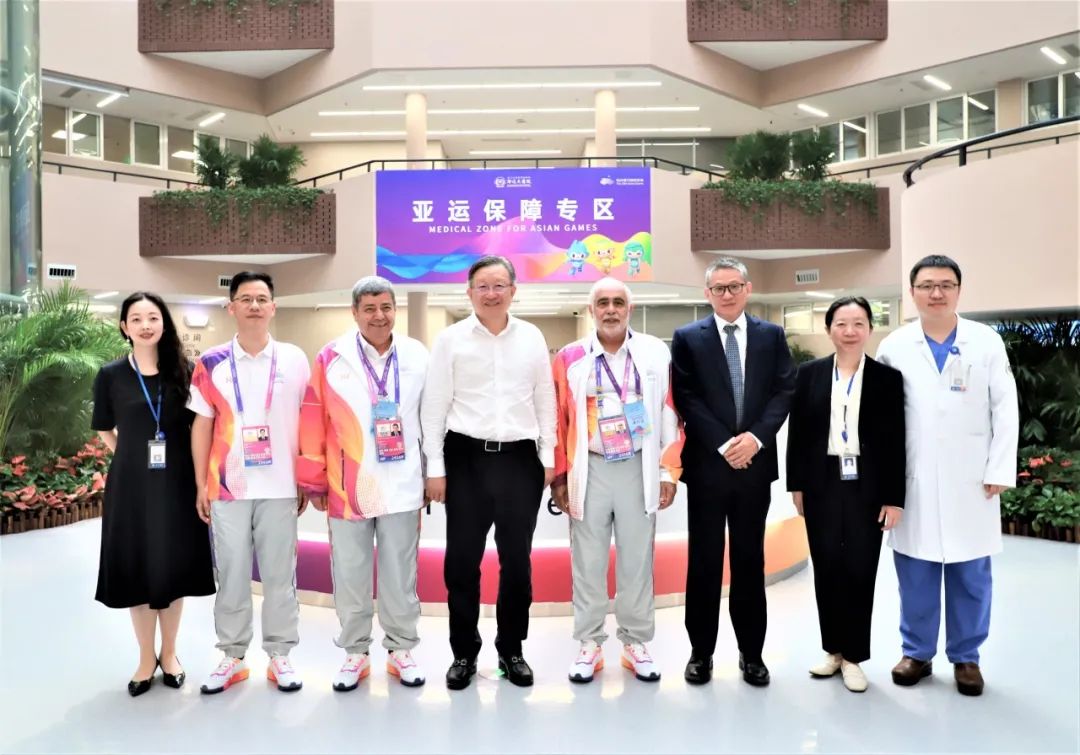 Accompanying leaders from the hospital included CAI Xiujun, President of SRRSH, YU Hong, Vice President, ZHUANG Yiyu, President for Nursing, DAI Sheng, Director of Medical Affairs, and ZHAN Yilei, Director of the Center for International Collaboration.

With the Asian Games held in Hangzhou being in full swing, SRRSH has been dedicated to offering detailed, professional, strong and quality medical support in an efficient manner. Dr. Su4ltan AL Busaidi and his team visited the reception hall, emergency rooms, examination and first-aid areas, and wards of the medical zone for the Asian Games, and expressed their care and appreciation for front-line medical workers.
Vice President YU Hong introduced the medical zone in detail. It is an area independent from other treatment and diagnosis halls and was renovated from the original outpatient building. The well-equipped medical zone has outpatient clinics, integrated emergency rooms, integrated wards, independent examination areas, and care units, with full set of examination equipment, including CT rooms, DSA, and ultrasound rooms. It can provide whole-process and one-stop services for athletes and other personnel working for the Asian Games, with the prospect of confining the targeted medical support to the specialized zone without affecting other patients. It's worth noting that it also has the capacity to handle mass casualty incidents.
Later, they visited two technical officials of the Asian Games who were being hospitalized at SRRSH at that time. The patients spoke highly of the professional, patient-centered services and convenient diagnosis and treatment processes.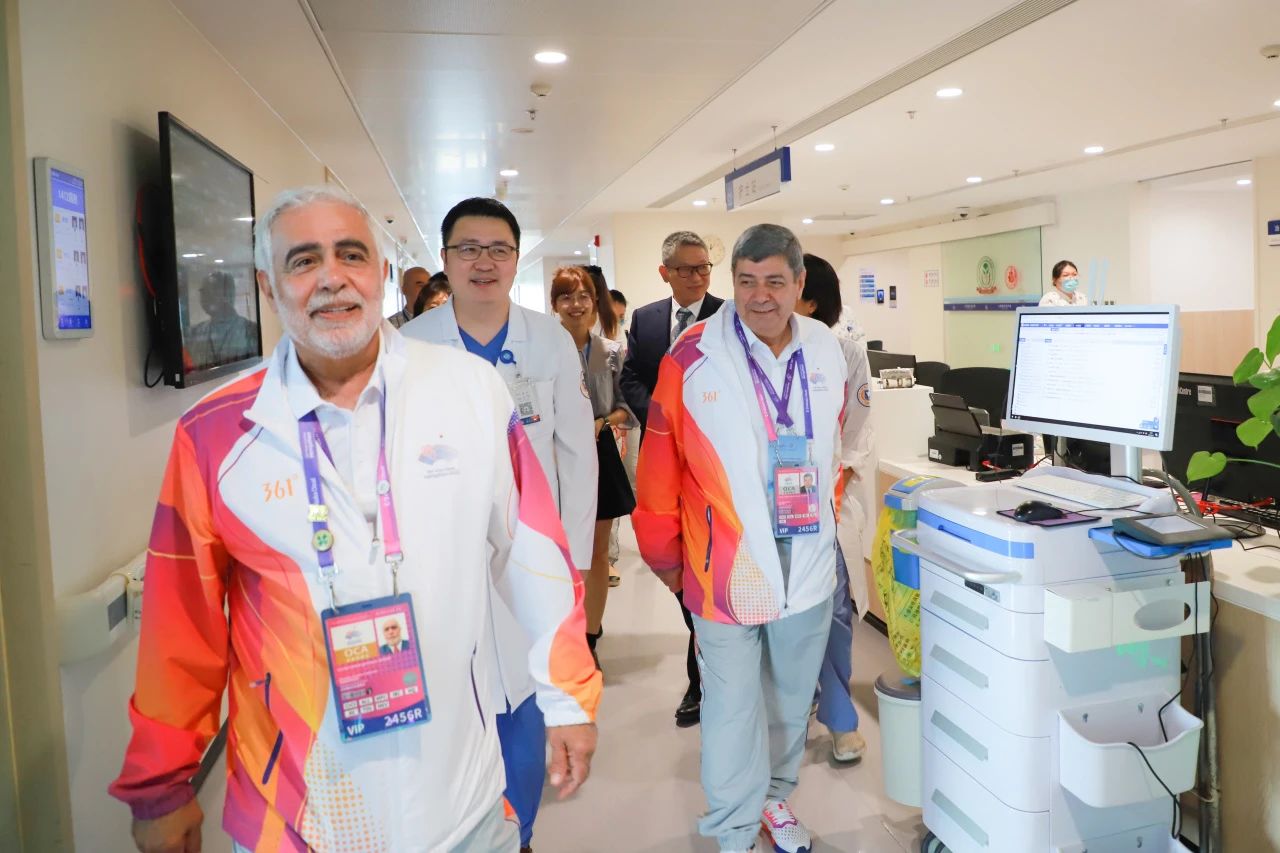 After the tour, Dr. Sultan AL Busaidi gave a sincere compliment to the efficient, independent and full-fledged diagnosis and treatment process of SRRSH. In last April, he delivered a video speech for the International Forum on Medical Support for the 19th Asian Games and the 4th Asian Para Games Hangzhou, hosted by SRRSH. This time, as he said, it was a great pleasure that he finally had a chance to visit our hospital by himself. He felt honored to see SRRSH's excellent, world-class healthcare service system and was impressed by Hangzhou's full readiness to provide the best services for athletes and workers of the events accordingly.
Dr. Kamal Alhadidi, from Jordan, also said that the humanistic care, warm vibe, and great facilities of SRRSH left a deep impression on him. He hoped that local medical institutions, medical education institutions, and innovators in the field of medicine in Jordan could come to SRRSH for exchanges and study, thus making for more international cooperation programs. Before their departure, they wished the 19th Asian Games held in Hangzhou and China's development every success and wrote two letters of love and gratitude to SRRSH.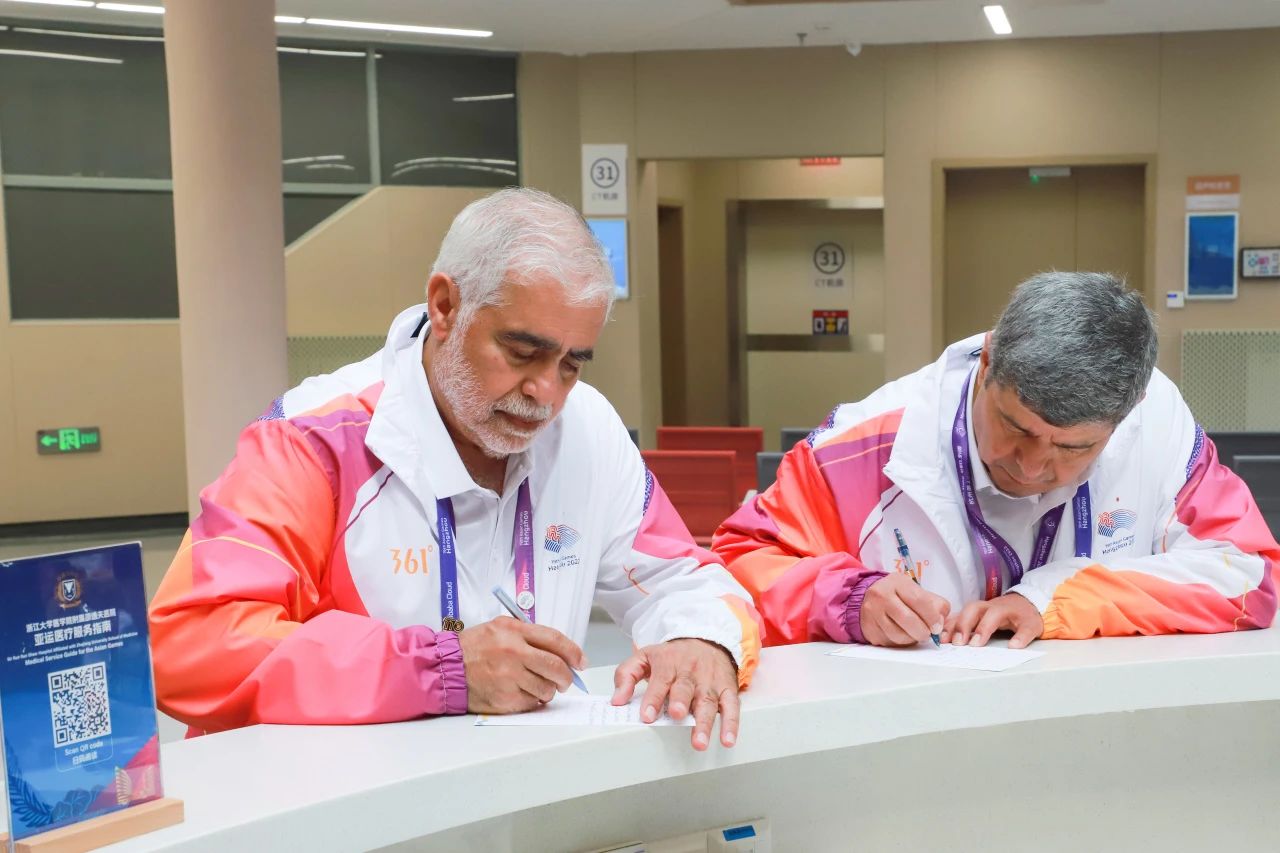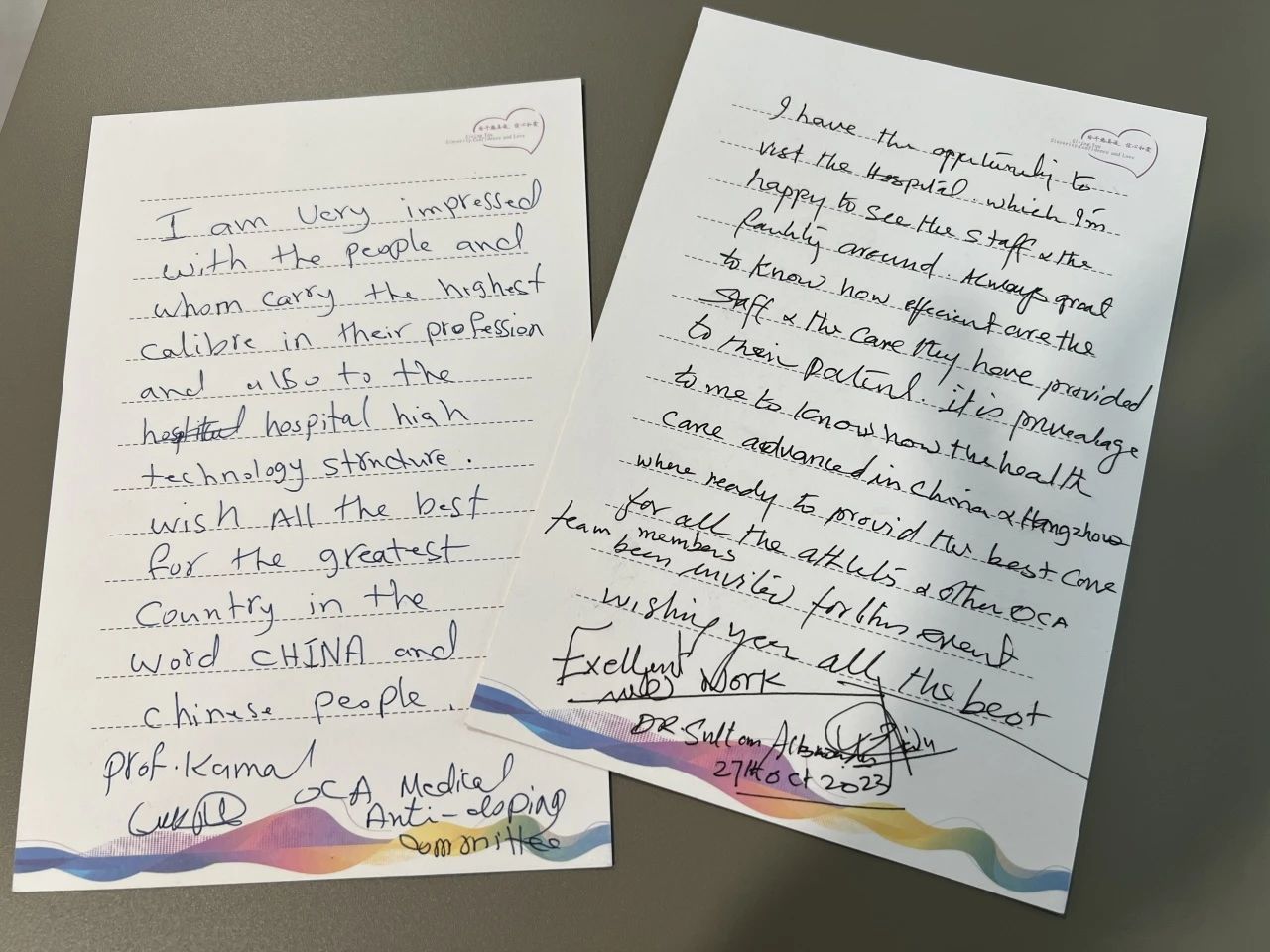 The medical zone for the 19th Asian Games was highly recognized by patients and visiting experts for its medical support capacity. Up to now, it has received over 150 patients related to the Games with a few being hospitalized. Multiple departments were involved, including the General Surgery, the Orthopedics Department, the Infectious Disease Department, the Cardiology Department, the Neurology Department, and the Anorectal Surgery. Diseases being treated include myocardial infarction, central nervous system infection, acute cholecystitis, and septic shock caused by colon perforation. Surgeries such as difficult emergency percutaneous coronary intervention for nearly occluded coronary artery, emergency intestinal perforation surgery, and cholecystectomy were performed.

At the same time, SRRSH organized a multilingual talent pool prior to the start of the events and arranged workers at Qingchun and Qiantang Campuses to be on duty for 24 hours. The available languages include Japanese, Korean, Thai, Arabic, Persian and other common Asian languages, ready to support communication at any time. The hospital is also equipped with multilingual translation equipment, which can support online translation in 84 languages, and can be applied in diversified situations including the medical scene.
Reportedly, SRRSH is responsible for the referral of 9 designated venues and hotels, including the Asian Games Village, InterContinental Hangzhou, Hangzhou Marriott Hotel Qianjiang, the Azure Qiantang, a Luxury Collection Hotel, Hangzhou, Grand New Century Hotel Zhejiang Radio & TV, the East Railway Station, Shangcheng District Sports Center Stadium, Qiantang Roller Skating Center, and Zhejiang Normal University (Xiaoshan Campus). The hospital is also in charge of the onsite medical support and ambulance rescue for InterContinental Hangzhou, Hangzhou Marriott Hotel Qianjiang, and the Azure Qiantang. As the only signing unit, it has undertaken the task of targeted medical support with a focus on grading for the Asian Games and the Asian Para Games.
In addition, as the designated support unit of air medical emergency rescue for the Asian Games, SRRSH has been dedicated to designing and building a quality Asian Games support system that combines online and offline, on-campus and off-campus, and air and ground approaches. Qingchun and Qiantang Cmpuses are qualified for air emergency rescue simultaneously and are ready to support the relevant personnel of the Asian Games at any time.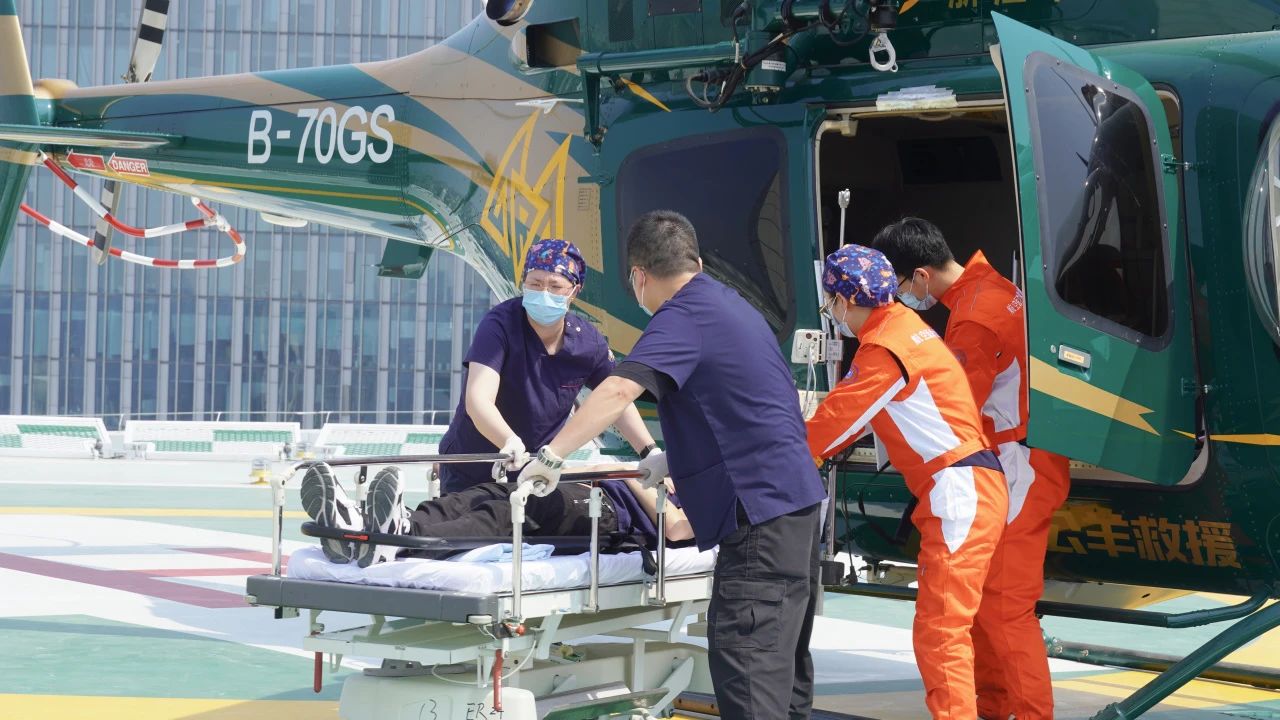 According to President CAI Xiujun, we showcase the power of Hangzhou and the image of China by offering professional, standardized medical support. As one of the top hospitals with the most prominent international features in Zhejiang province, we will continue to improve all sorts of support and stand ready throughout the Games. We will optimize medical processes and services from time to time, and complete the important medical support task for the Asian Games and the Asian Para Games with high standards and quality, demonstrating China's outstanding medical strength to people around the globe.